The new Niagara College Welland Campus Student Commons establishes a welcoming heart within the sprawling, decentralized campus, establishing a flexible gathering place where students can study, collaborate, eat and socialize. In addition to enhancing student amenities, the project upgrades the 1970s era campus with a new north-facing entrance, enhances both wayfinding and branding with a bold graphic treatment, and opens the building to natural light and external views.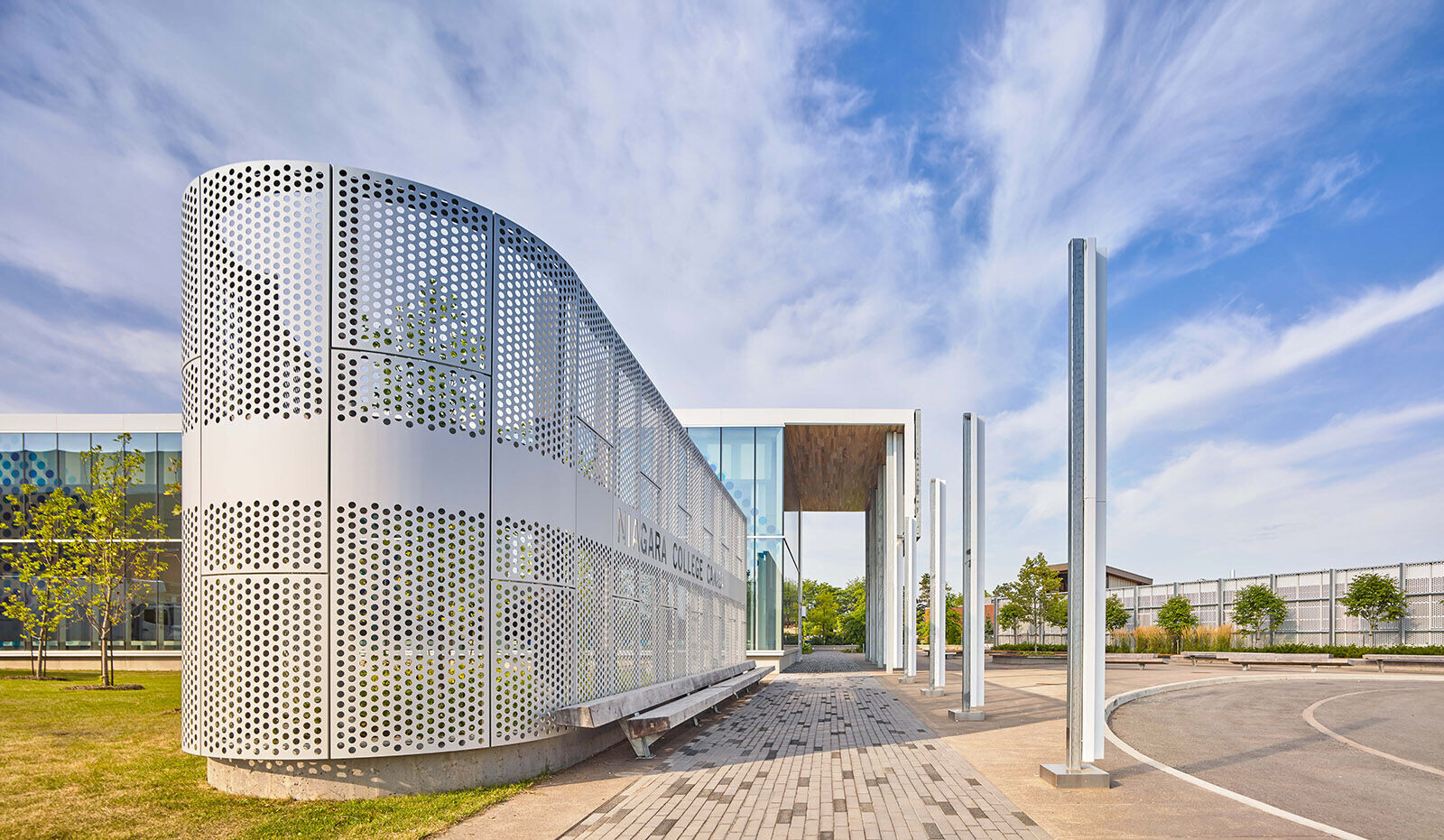 At the apex of a complex of dark, narrow corridors from previous renovations and additions, the project involved demolishing some tight spaces, improving wayfinding, and introducing natural light to the dated campus. The new 35,000 sf double-height space includes a welcome centre, a cafeteria, a retail space, an activity room, and open spaces for learning and study with hotel-style amenities such as super-scaled LED monitors and a gas fireplace. Playful details reinvigorate the campus' visual identity and official branding, including a recurring dot motif, custom-designed pendant lights shaped like X's and O's, and blue super graphics.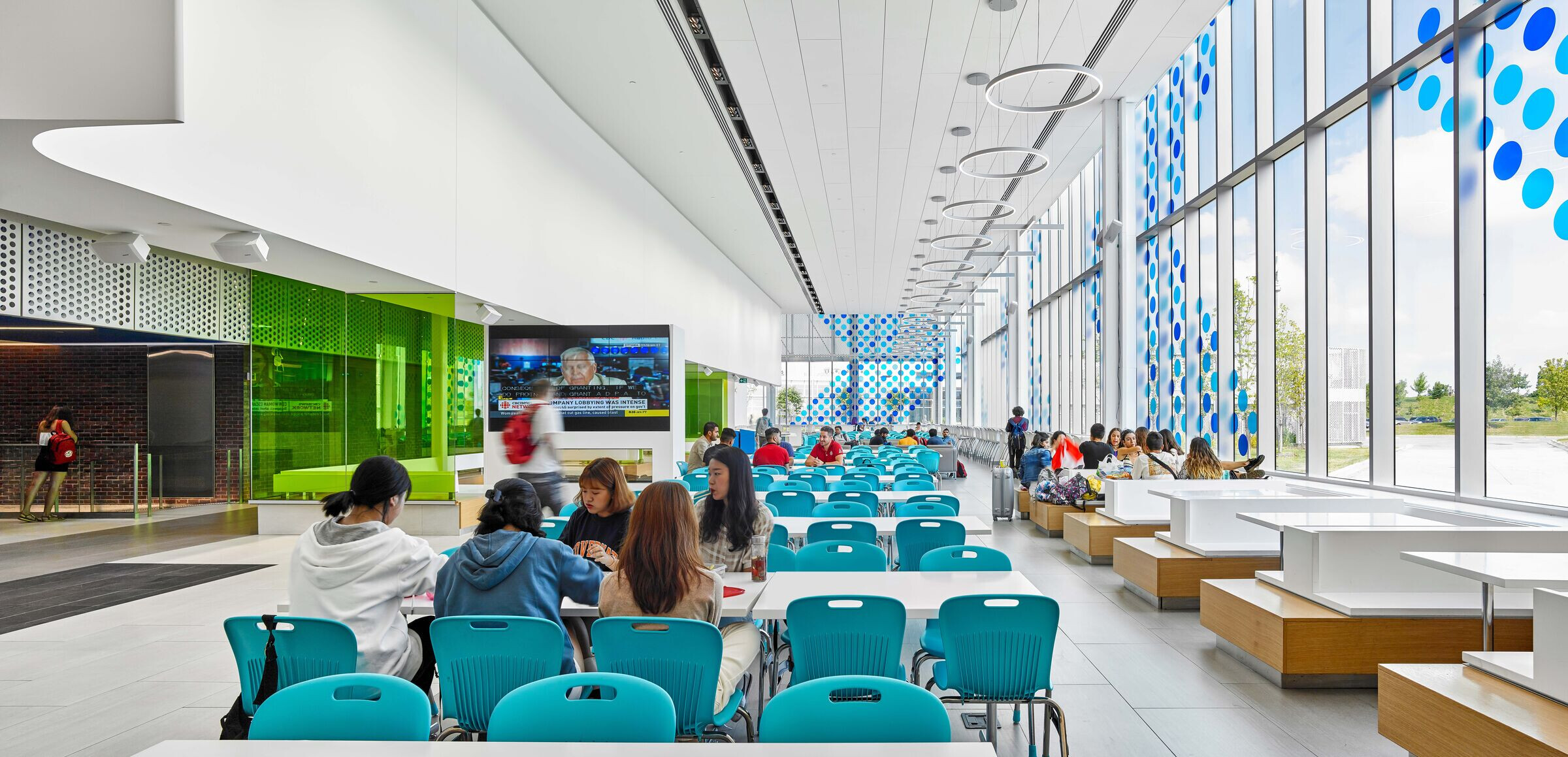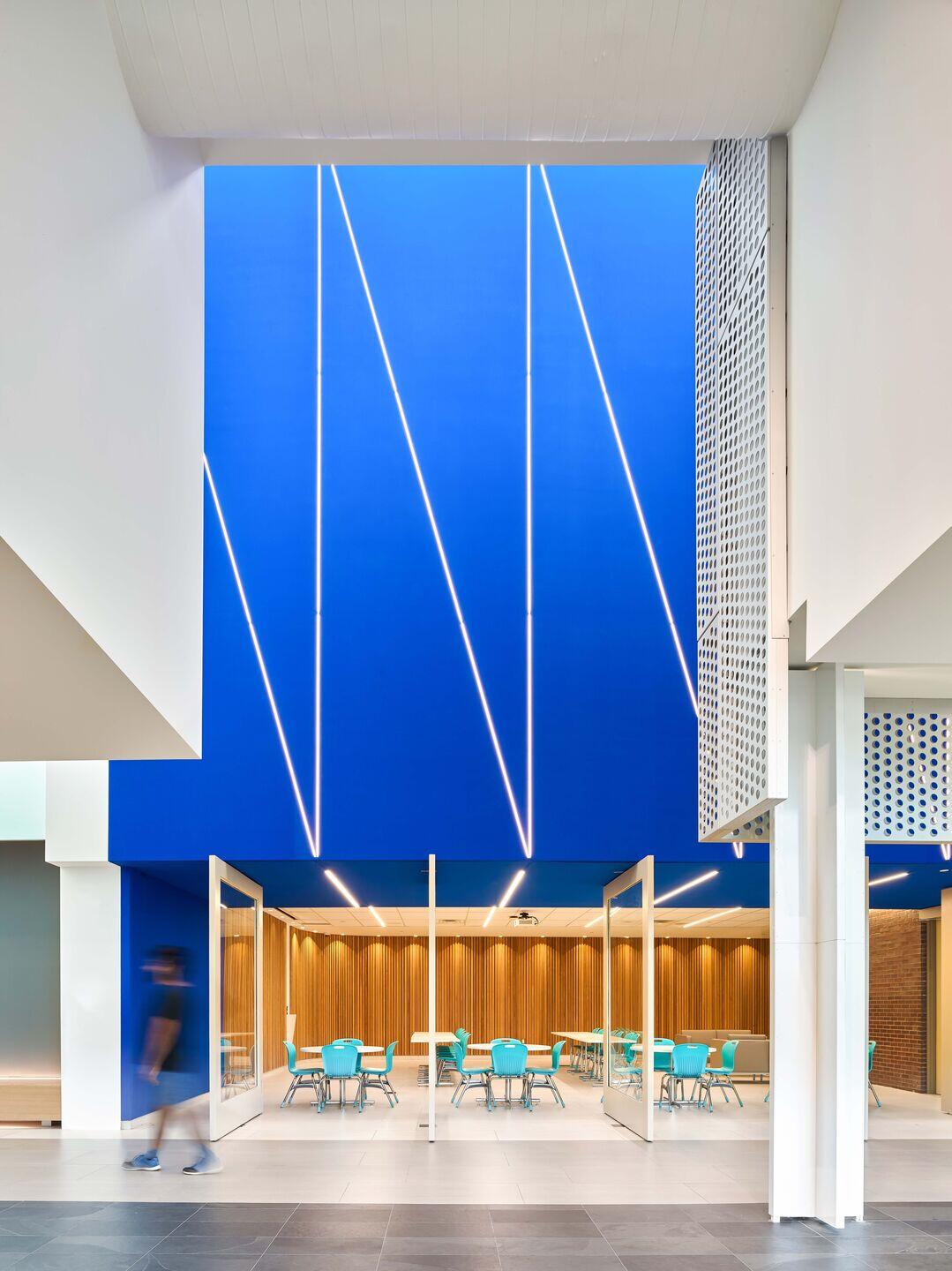 Materials were selected based on their sustainable quality, their local provenance as well as their playfulness: circular lights embedded in the ceiling resemble floating bubbles while visually leading users towards the central zone; tinted green glass partitions define the seating areas; a mirrored clerestory reflects light and expands the experience of the space; and sculptural blue felt panels inlaid with ultra-thin LED lights absorb sound and demarcate the large-scale pivot doors leading to the student activity room. Built-in Corian and oak tables, counters and benches, and lightweight chairs and tables offer durable and easy-to-maintain seating options.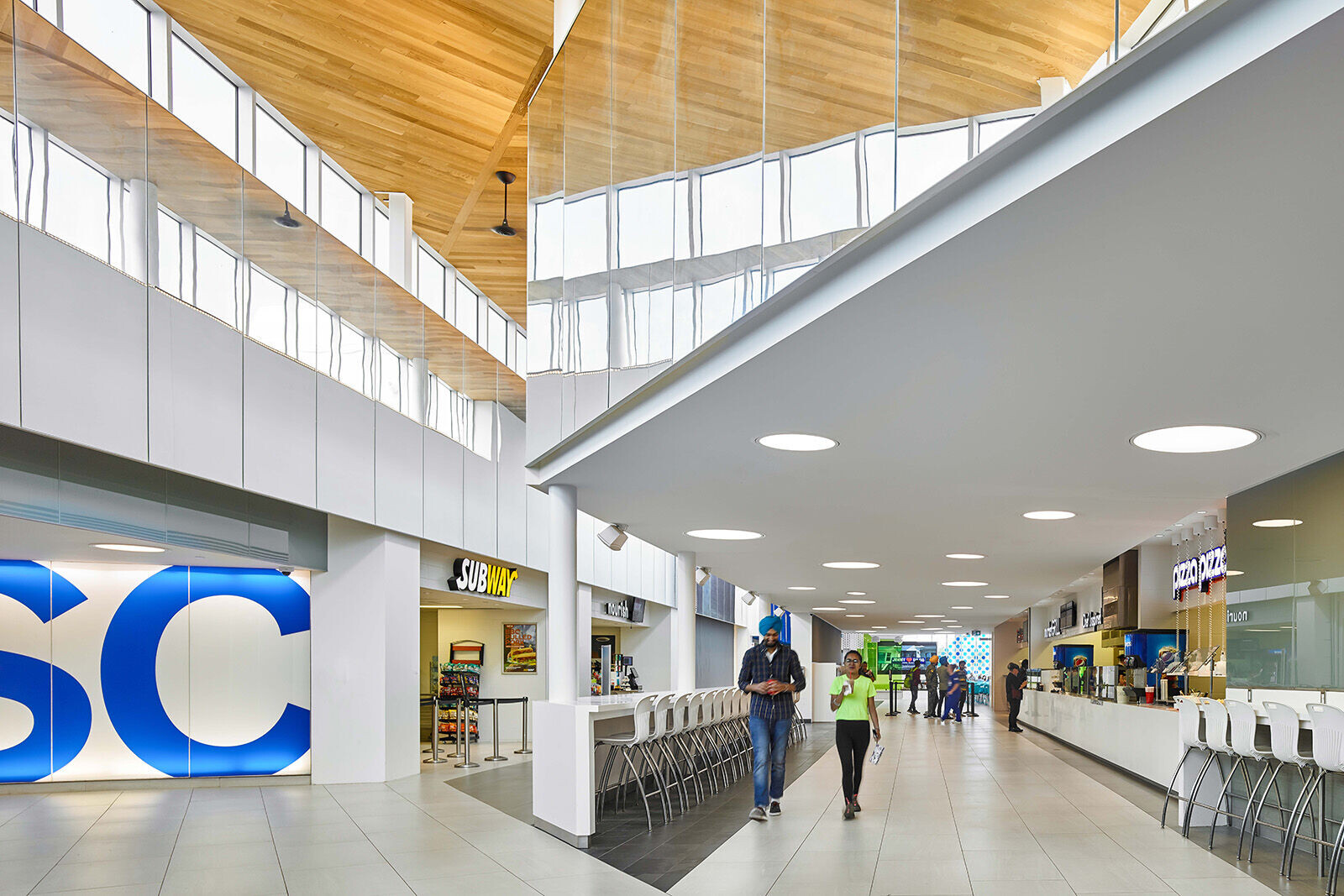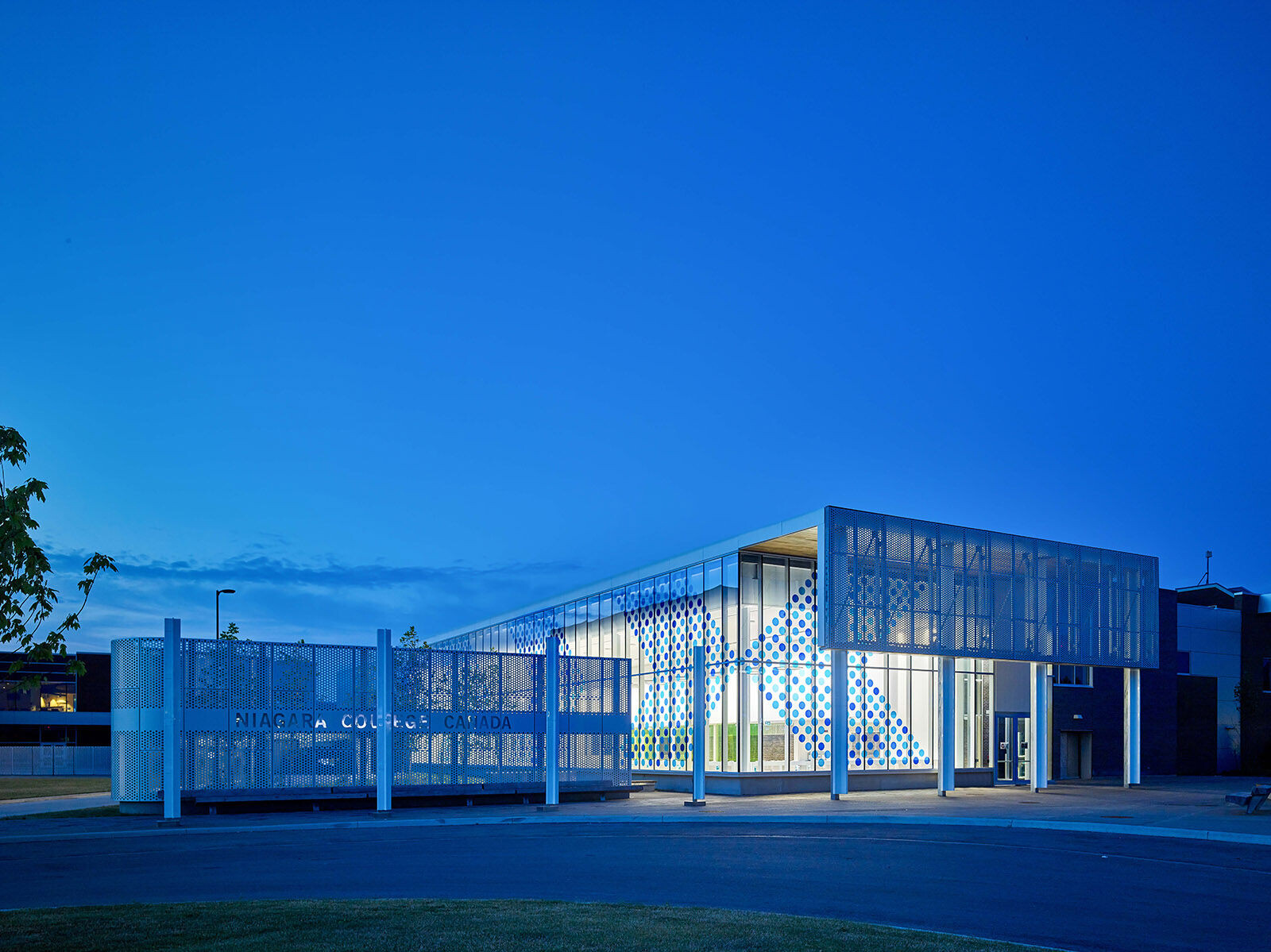 Carefully sited to provide easy links to transit and student services, the lantern-like addition also provides the college with an alternative entrance and clear drop-off zone. The tall cedar wood canopy helps students and visitors navigate inside, while floor-to-ceiling windows create views of the landscape and student activity within. Curved, perforated metal panels that read, 'Niagara College Canada' are a welcoming gesture that also hide the campus's main shipping and receiving zone, while a new plaza with generous wood seating encourages outdoor activity in the warmer months, creating a sense of place.